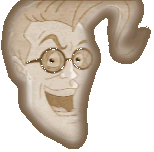 NO-FRAMES
Your browser crashes
because of frames.
Your desktop area setting
messes it up bad.
You just can't stand frames.
Do you want out of the frame?
FRAMES
It is easier to navigate
with frames.
It looks better with frames.
Frames are your friend.
Maybe you want to be stuck in a frame.
okay, this site uses frames, java, and cascading style sheets.

it was made by a pc for pcs... I am not sure how a mac will handle these pages. from what I've seen it is not pretty. sorry...

the current versions of netscape and internet explorer support frames, java, and css goodies so download them now!
site requirements:
set your desktop to stun... uh, a desktop area of 800x600 pixels
crank up the color on your monitor to at least 16-bit High Color
set your desktop's font size to small 96 dpi. the large size looks really ugly!
infect your computer with the latest browsers: Netscape 4.6+ or IE 5+
make sure javascript and style sheets are enabled
grab Microsoft free fonts: Verdana, Arial, and Times New Roman.
How to tell if everything is okay...
can you see all the links in the left frame? adjust the size. if you need more space on the left put your mouse over the border, right after the scroll bar. click your left mouse button, drag the border right until everything fits. if you need more space for the main frame, pull the border left.

are any of the links underlined on this page or the left frame? if it is you need to enable style sheets or get a new browser.

below the chief is there a menu telling you what your screen settings are? if there isn't you need to enable javascript or get a new browser.

look at the menu below the chief. is your desktop set to 800x600 pixels? 16-bit high color? to change the settings click start-settings-control panel-display-settings. you might have to restart your computer.

do you have the latest browsers? check it. click help-about [communicator/internet explorer]

do you have Verdana, Arial, Times New Roman? do those font names look different from each other? if not, download them!